Why Book an Inshore Fishing Charter in Tampa Bay?
When in Tampa Bay, one of the must-do activities is to head out to the beautiful waters for a day of fishing! There's nothing like a relaxing day outdoors where you're waiting for a bite, along with the thrill of reeling in something big. It's not only relaxing, but a fantastic way to spend time with loved ones.
For beginners and families with children, you may have been recommended to go inshore fishing and to book a charter. But upon checking different charter services and their prices, you might be wondering if it's even worth taking it on.
Read on as we share the benefits and reasons why you should consider booking an inshore fishing charter in Tampa Bay!
Why Book an Inshore Fishing Charter in Tampa Bay?
If you're unfamiliar with inshore fishing, it's generally considered to be any kind of fishing taking place in waters less than 30 meters deep. Usually, it's done in waters far less shallower than that, thus being near the shore.
You can expect to catch many inshore species, including redfish, snappers, trout, snook, and more. While some anglers claim that inshore fishing is boring and without action, you'll be surprised! Some people have caught sizable tarpon and many species would put up a fight, making it a fun experience for any angler.
We recommend inshore fishing if you're just testing the waters and want to learn the ropes about the sport. It's also a great time with children as they get to have an adventure-filled day. That said, even expert anglers can join in, learning more about the inshore fishing scene in Tampa Bay or if they have limited time, as inshore fishing trips take between 4-6 hours or less.
So, this must bring you to the next question – Why go for an inshore fishing carter in Tampa Bay?
Here are reasons why it's a good idea to book a charter rather than go the DIY route.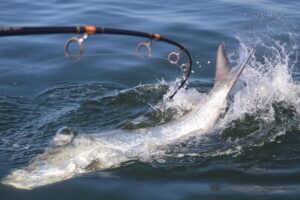 More Fun, Less Work
One of the main reasons why many people enjoy booking fishing charters is because they get to focus more on the fun over dealing with the responsibilities of tending to a boat. You can concentrate on relaxing as you travel to fishing spots, then focus completely on catching fish.
There's no need to worry about preparing the boat and equipment, as well as handling the navigation and after-boat care! The only thing you need to do is to show up with a positive attitude, and you can expect to have a great day!
Lots of Opportunities
When you book an inshore fishing charter in Tampa Bay, you have a lot of flexibility. You get to experience various kinds of boats and select any fishing charter in Tampa Bay.
Not only that, but there are numerous learning opportunities to take advantage of! The captain and crew have been navigating Tampa Bay's waters and providing fishing charter services for years, so they have extensive knowledge about inshore and offshore fishing.
If you're a complete newbie or with children, you can learn so many new things and grasp the ropes of fishing. Even expert anglers can learn something new from the captain and crew, from how to locate fish activity to special techniques to catch fish.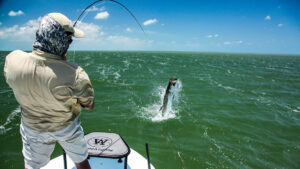 Receive the Complete Fishing Experience
Whether you're a beginner angler who needs help in baiting their line or want to do the entire process themselves, you can have your own customized experience. Your charter captain will be more than willing to adjust to your needs and accommodate whatever preference you have.
You just have to make sure you communicate with the captain beforehand to settle your expectations and discover what kind of trip you'll have based on the captain's plans. Whether you're a total beginner or avid fisherman, make sure you talk with the captain!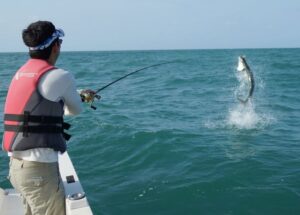 Any Drawbacks of an Inshore Fishing Charter in Tampa Bay?
That said, you also have to take note of potential drawbacks fishing charters have so you can manage expectations:
You can choose between private or shared fishing charters, with the latter being less spontaneous. Since you'll be joining a fishing charter with other people, you will need to manage your expectations on what fish to catch and fishing spots to visit. The captain will try to adjust the trip to meet everyone's needs, and some of your preferences may not be met. You can resolve this by booking a private inshore fishing charter in Tampa Bay to have more of a say on what fish to catch and where to go.
This may be more of a minor issue among experienced anglers – You won't always get the ideal boat. If you prefer having your fishing experience on a specific boat, don't immediately expect for your request to be granted. The best you can do is to request it from the captain or check other reputable charters that offer the boat model you'd like to ride on.
While we mentioned the woes of owning your own boat, some anglers may actually genuinely enjoy owning one. You'll find many boat owners loving their boats, making it their hobby to maintain and use them out in the waters. This is why it may be best for boat owners to go the DIY route, unless they are unfamiliar with the waters. We still recommend hiring a fishing guide to take you to the best spots and teach you more about inshore fishing.
Wrapping It Up
When heading to Tampa Bay, don't forget to include a whole day of fishing into your itinerary. And to lessen the hassle of having to go to the waters yourself, explore the beauty of Tampa Bay with a charter. Not only will you have an enjoyable time, but you're also assured safety and more chances of fish to catch!
Don't wait any longer and contact us now to learn more about the services we offer and book a charter now.