What to Look For in a Tampa Fishing Guide
Are you considering hiring a Tampa fishing guide for your upcoming trip? Then you've come to the right place and are making a good decision! With the many amazing fishing opportunities Tampa Bay has to offer, it's worth having a guide alongside you for higher chances of getting a catch.
Being notoriously known for the fishing opportunities, Tampa Bay is also filled with many guides, making it difficult to choose the best one you need. With that in mind, read on as we share what to look for in a Tampa fishing guide!
What to Look For in a Tampa Fishing Guide
When it comes to finding the best Tampa fishing guide, you'll want someone that meets your needs and preferences. Here are a few factors and tips to follow: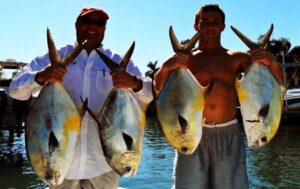 Reputation
For starters, you should ask trusted sources like family, friends, or colleagues who have used fishing guide services in Tampa Bay. Ask them about their experiences and contacts with the guides they worked with, which can narrow down your choices.
If you're already in Tampa Bay, it's worth asking around in local fly shops, which most likely have guide recommendations based on your needs.
It doesn't stop there, though! Once you have a list of potential fishing guides you're interested in working with, the next step is to check out their website and their service offerings. Moreover, you can find customer testimonials from there. This can help you find out if the Tampa fishing guide offers the services you want and has a great reputation.
Other than trusting the guide's official website, check out third-party websites like TripAdvisor or Yelp, where people share their honest reviews about fishing charters and guides.
Fishing Licenses
Most fishing guides would have a US Coast Guard-issued license allowing them to transport up to six passengers in one boat. Such certifications are usually called the six-pack license. Most charter captains may also avail of a fishing license issued by the Florida Fish and Wildlife Conservation Commission, covering all passengers.
It's important to know what licenses and certifications your guide possesses. Not only does this help you know if the Tampa fishing guide runs a legitimate business, but also if you need to avail a fishing license yourself.
You may also want to find a Tampa fishing guide who is certified in sustainable fishing practices. If so, there are platforms to help you out, like this one!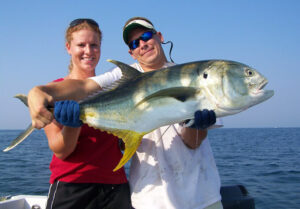 Inshore vs. Offshore Guides
Tampa fishing guides can offer either/or two of the following: Inshore and offshore trips.
An inshore Tampa fishing guide would usually fish grass flats in shallow running skiffs, which accommodate two to three clients. Such flats usually target Florida's top inshore species, which are trout, snook, and redfish.
On the other hand, offshore guides travel to the deeper waters in larger boats carrying up to six people. As expected, offshore fishing guides would be pricier as bigger boats use more fuel and would go further out the waters. However, it's also worth the price for anglers who want more of an adventure and to catch bigger fish.
Live or Artificial Bait?
Many Tampa fishing guides would do whatever it takes to catch some fish, but for legal reasons, of course.
That said, a few guides are purists, only fishing with artificial lures. That's why it's important to communicate with fishing guides before committing to one so you can align your expectations.
Make your goals and intentions clear when hiring a guide. If you plan to fish with a fly rod, look for a Tampa fishing guide specializing in fly fishing! Or if you prefer a Tampa fishing guide who also uses live bait, then make sure you ask about the bait used during the trip. In general, someone using live bait will likely catch more fish than those who don't.
Also, you'll want to check if the Tampa fishing guide also provides fishing equipment and tackle. This is helpful if you are a beginner with your own gear or don't want to travel with what you usually use. But if you prefer using your own gear, then this won't be a major factor to consider.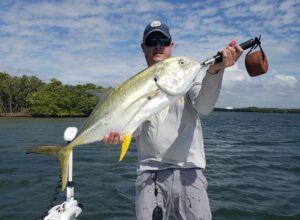 Catch Claim
Most fishing guides would allow their clients to take home the fish they catch. However, there are a few guides who strictly enforce a catch-and-release rule. Again, it's important that you communicate your expectations with the guide before you choose to hire him.
Most offshore fishing guides don't let clients catch their limit. This means that, if the regulations allow an angler to keep five groupers, the guide will likely say that you can only bring one home. If you are allowed to bring home fish, then don't forget to bring a cooler or ensure that the guide has one!
Adaptability
Lastly, you'll want a Tampa fishing guide who is adaptable as he is knowledgeable about the waters and fishing. You never know what can happen before or during a fishing trip! That's why it's crucial for you to know that your guide always has a plan B and can put together an enjoyable trip even during what's considered bad days.
A good fishing guide will do more than take you out to the waters. He'll ensure you have the complete experience and have backup routes in case the usual hot spots aren't hitting as expected.
Wrapping It Up
Understandably, finding a good Tampa fishing guide is tough. It will take a lot of research and communication before you find the most suitable one. But all that effort will be worth it and it will show on the fishing trip! 
Hopefully, this article on what to look for in a Tampa fishing guide helped you out. Now that you know what tips to follow, contact us now at Tampa Bay Fishing Charters and we can connect you with the best charters and guides!