How to Prepare for Your Tampa Fishing Charter
If you're in Tampa Bay, you can expect a ton of fishing opportunities, especially when booking a Tampa fishing charter. It's worth booking one, especially if you are a tourist because charter captains will guide you to the hot fishing spots and teach you how to catch your target species. Fishing charters usually have everything you need, so you just need to bring yourself and personal items like food and medication (if required)!
But this may have you wonder, particularly first-timers, about what to expect from a Tampa fishing charter and how to prepare to ensure a fun, successful time. We share helpful tips to prepare for the Tampa fishing charter and what you must know about it.
How to Prepare for Your Tampa Fishing Charter
Whether you're still planning or have already booked your Tampa fishing charter, here are the things to know and tips to follow to prepare for your trip: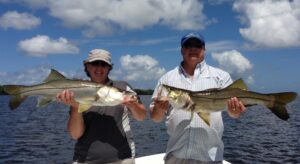 Fishing Licenses and Insurance
Before you book a fishing charter, you shouldn't hesitate to ask the captain to confirm their credentials. Check if the Tampa fishing charter captain has the following:
Valid Coast Guard captain's license
If their fishing license covers everyone onboard
Adequate insurance
Necessary certifications
Cancellation and refund policies
Such documentation can assure you and other charter joiners that your captain knows how to navigate the waters and focuses on your safety. Besides official documentation, check if the fishing charter captain and crew have training and experience in fishing and the Tampa Bay waters.
Speaking of fishing licenses, you must ensure that the Tampa fishing charter captain and crew are aware of the state's fishing rules and regulations. They should distinguish which fish are safe to keep or are considered catch-and-release.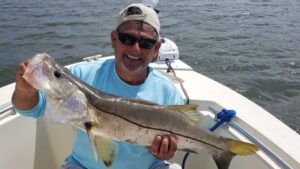 The Inclusions
Fortunately, most fishing charters already have the appropriate fishing gear ready to be used. In case you have a special rod or prefer using your own equipment, make sure you contact the fishing charter captain to discuss it before your trip to ensure it can handle the fish you will target and the other potential species you may catch.
Usually, a Tampa Bay fishing charter can catch species like mahi-mahi, mackerel, grouper, flounder, cobia, shark, redfish, snook, tarpon, and more, depending on where and when you go, among other factors. Research the Tampa Bay fishing seasons so you know when to schedule your fishing trip and what to expect on the day itself.
What to Bring
One of the most effective ways to prepare for a Tampa fishing charter successfully is to pack properly. You must be prepared for the conditions and the trip itself, or you may come across problems if you forget to bring what you needed.
Make sure that you wear clothes appropriate for the weather in Tampa Bay. While this would depend on the weather forecast, it's best to wear this during a nice, sunny day:
A hat with a brim
Polarized sunglasses
Long-sleeved shirt
Fishing pants
Sunscreen or sunblock
Boat shoes
Bring a raincoat because you can expect to get wet reeling in your catch or during the boat ride itself. Moreover, you might experience unexpected rains. Either way, ensure that you focus on protecting yourself from the elements. Also, make sure that you wear durable anti-slip shoes to avoid sliding around the boat because of the wet surfaces.
Besides that, you should also bring the following:
Food and drinks (some charters include this but it doesn't hurt to bring a lot of extra water and light snacks)
Extra change of clothes
First aid kit and personal medication (anti-seasickness medication may be needed)
Your valuables like your phone, wallet, and camera
Fishing gear, if you prefer to bring your own
Water-resistant backpack to store all your things
Cooler (if the charter doesn't include it)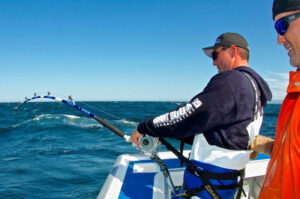 Communicate
Before, during, and even after your fishing charter, there's one thing you should never forget: Communicate! Never hesitate to ask any questions to your fishing charter captain. Charter captains must be open to answering any queries and teaching their guests how to improve their skills.
May it be educating beginners or children; charter captains should be courteous and patient. Not only that, but as a guest, you must be respectable and carry a positive attitude! Make sure you follow all the safety rules and policies implemented on the fishing charter to prevent accidents and mishaps.
Remember that policies may vary from charter to charter, so ask ahead. For example, some captains may allow smoking and alcohol on the boat, while others frown upon it.
We recommend communicating with the captain through messaging apps before the trip and to arrive at the meeting point early. That way, you can meet the captain and crew before boarding to discuss any last-minute questions you have. It can also allow you to talk about any personal preferences you have and establish a professional relationship, which will help in the trip!
But remember, you won't be the only person on board. Be patient as the captain and crew are trying to accommodate about 10-15 people at once and everyone is different with their own personal goals and preferences. Sometimes, you may not be able to get your target species, but you can bring home other fish, which is just as great!
Wrapping It Up
There is a slight difference when it comes to preparing for your fishing trip and a Tampa fishing charter. With the latter, you have less hassle in terms of renting a boat, rules, fishing licenses, and being knowledgeable of where to go or the fish activity based on the weather. So when preparing for your Tampa fishing charter, you'll discover that it isn't as intimidating as expected.
Hopefully, you learned a lot about how to prepare for your Tampa fishing charter. If you haven't booked one yet, contact us now and schedule your next trip with us!