What's a Tampa Bay Sportfishing Charter?
If you're looking for an enjoyable time in the waters, then you can't go wrong with Tampa Bay! If you're planning your next fishing trip in the area, then it's worth looking into joining a fishing charter, with a professional captain and crew taking care of you the entire time. As you search for fishing charters, you may have come across the option of joining a Tampa Bay sportfishing charter.
This begs you to question, what is a Tampa Bay sportfishing charter? Is it any different from inshore or offshore charters? More importantly, is it right for you and your goals? Learn all about what sportfishing charters are and how to find the best one suited for you.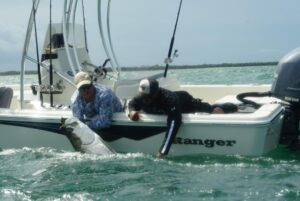 What is a Tampa Bay Sportfishing Charter?
Sport fishing is also known as offshore fishing, which takes place in the ocean, at least 30 meters from shore. This gives anglers many fishing opportunities to catch exotic species you normally wouldn't find in the shallow waters, like sharks or tuna.
A Tampa Bay sportfishing charter, also called an offshore charter, consists of a captain and crew who will take you far out to the waters so that you can't see land anymore. These charters usually last the whole day, or even overnight, making them suitable for experienced anglers ready for a challenge. Expect the waters to be rough and the fish to be even more aggressive!
This differs from deep sea fishing, which is called big game fishing. For this type of charter or fishing trip, you will be taken to waters of at least 100 feet deep, or even over 300 feet deep.
Types of Sportfishing Charters
There are various things to consider when choosing a Tampa Bay sportfishing charter, and the first thing to look into is the type of charter you want to join. The type of Tampa Bay sportfishing charter will give different experiences.
For instance, party charters are more affordable, but you must be fine with being around strangers. This is why it's best to carefully consider this fact before you avail of charter services.
Here are the three major types of fishing charters to choose from: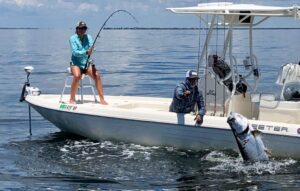 Private Charters
If you'd like to feel more comfortable when fishing with the people you know and feel comfortable with, or you want a more customized experience, then private charters are your best bet.
Private charters will give you more access to the captain and crew, so you can get their full attention (other than when they are tending to the boat). You can communicate with them openly and ask any questions you have, or be taught helpful techniques without having to wait for your turn.
Moreover, you can choose who you want to be with during your trip, which is great for those with family, friends, or when hosting fun parties. Private fishing charters are a bit pricier than the other options, but you get your money's worth.
Shared Charters
Shared or group charters are ideal if you still want a private fishing experience but you're open to splitting the cost with a few strangers who want the similar experience you do.
It isn't as expensive as a private charter but you might miss out on availing the charter captain or boat you wanted. This is because private charters are more prioritized. If you have no specific preference for your boat or captain, then this may be an ideal choice.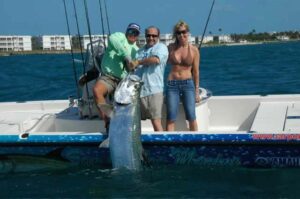 Party Charters
Party charters aren't like a party bus. It simply refers to a large number of people on the boat with you. It is the most affordable way to fish since you are splitting the cost with a lot of joiners.
However, you will have little to no say over where to go, the target species you can catch, who you'll be with, and the boat you'll be on! You might not feel comfortable with strangers around you, and you also won't get the customized experience you need. But if you are a beginner and looking for a tourist-friendly experience on a budget, this is a good choice.
How to Find the Best Sportfishing Charter
There are also other factors to think about as you choose a sportfishing charter, such as:
Make sure you research charter companies before you avail of their services. You can also ask any family or friends for recommendations if they joined a Tampa Bat sportfishing charter. Read as many legitimate reviews as possible, as they will give you an idea about what to expect.
Contact the charter captains you have narrowed down for a quick interview. Talk to them about their vessels and crew, along with their appropriate fishing licenses and credentials. You'll want someone experienced and knowledgeable about how to fish and the state rules and regulations. Moreover, discuss the payment and return policies to see if it's within budget and what happens in case of poor weather.
During your talk with the captain, discuss your expectations clearly and be honest with your fishing skills and experience. That way, the charter captain and crew know how to personalize your trip better.
Also, make sure that you find out more about the fishing fleet that will be used for the charters. You want to get a spacious and comfortable boat for an excellent experience.
Consider the duration as well! The longer the charter, the more fish you can likely see and catch. But this would depend on your schedule and what you want out of your trip.
Wrapping It Up
Sportfishing charters are for adventure seekers and those looking to level up from their typical inshore or nearshore trips. Fortunately, going to the deep sea won't feel as daunting when you join a reputable Tampa Bay sportfishing charter to lead the way and teach you new tricks.
Hopefully, you learned a lot about what sportfishing charters are and how to find the best one for you. If you're still searching for a Tampa Bay sportfishing charter or guide, contact us now and learn more about our service offerings.