Fish to Catch on an Inshore Fishing Charter in Tampa
Tampa Bay is one of the crown jewels among anglers, whether local or tourists. The area has over 200 fish species inhabiting the waterways and boasts to have the largest open-water estuary in the Sunshine State. It's one of the reasons why many flocks to the area, to brush up their fishing skills or begin their journey in the waters.
So, if you just booked an inshore fishing charter in Tampa, you're probably brimming with excitement and wondering what to expect. Without further ado, we share the fish you can catch when inshore fishing in Tampa.
Fish to Catch on an Inshore Fishing Charter in Tampa
There are numerous fish species to catch in Tampa Bay, but we narrow it down to the top four most popular species you can expect to reel in during your inshore fishing charter.
Snook
Tampa Bay's snook fishing is probably one of the most exciting fishing worldwide, especially when on shallow flats. We can find snook in the shallow flats of Tampa Bay most of the year. Come cooler months, snook will seek warmer waters around both basins deeper backwater springs, or rivers.
While people perceive inshore fishing to be something for beginners, snook is an interesting fish species that many anglers target. That's because these fish are crafty and explosive with high leaping speeds that will pull hard. So, if you're looking for a challenge, you can try targeting snook.
If you're targeting snook, we recommend using a light tackle with fly rods and live bait. It's also suitable to use a 15-pound class spinning tackle and a 9-weight fly rod.
Because snook is one of the highest regarded sportfish in Tampa Bay, the area has implemented strict limitations. You can only patch one snow per person measuring 28 to 32 inches. That said, while snook is delicious to eat, it's best to let them go back to the waters.
Most snook would measure between 20 to 30 inches long, with trophies today measuring about 36 inches or longer.
Redfish
Redfish, also known as the red drum, is one of the favorites among local anglers when fishing on the flats. Redfish is the ultimate flat fish that's readily available all year long. You would target redfish in very shallow waters that are only two to five feet deep and the times even shallower.
Most of the time, you would catch redfish through sight fishing large schools roaming flats. Once the water temperatures drop during the cooler months, you can find redfish in deeper docks and structures adjacent to flats in deeper waters ranging from 6 to 10 feet deep. Most redfish in Tampa Bay would range between 15 to 34 inches long, with the fish running in schools of similar sizes.
The action can get so fast for redfish that everyone on an inshore fishing charter in Tampa Bay would be hooked up on fish measuring between 30 to 34 inches.
Like the snook, redfish is one of Florida's favorite sports fish, so the restrictions and limitations are a bit tight. Anglers can only catch one redfish per person, measuring 18 to 27 inches.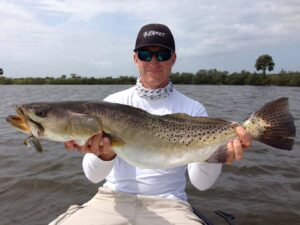 Speckled Trout
Another favorite among locals and those who traveled to Tampa Bay to fish is the speckled trout. Trouts are one of the most abundant sports fish in the area, being very prolific fish. You can catch these fish throughout the entire Tampa Bay and on area beaches all year round.
They are very popular among anglers not only because of their availability, but because they are also fairly easy to catch. You can catch throughout in shallow flats throughout the year but come colder months, you can find trout in deeper waters from intercostals and along area beaches about 15 feet deep.
Because speckled trout are so abundant, they have incredibly fast action, making it great for kids and beginners to target. Plus, they are delicious to eat, and you can keep up to four trout per person.
Most trout would average around 14 to 22 inches long, but anglers can only keep trout that measure 15 to 20 inches or more.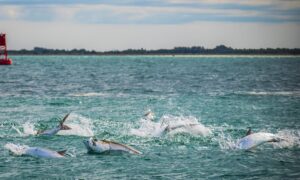 Tarpon
did you know that Tarpon fishing is considered the best in Tampa Bay? We're not just talking about the best in Sunshine State but in the entire world! After all, this fish species is the ultimate sport fish worldwide, and for great reasons.
For starters, Tarpon boasts excellent stamina levels. Moreover, they are incredibly strong with acrobatic skills, being able to leap up to 15 feet into the air. Not only that, but they can be considered monster fish as they can grow over 200 pounds. It isn't hard to see why numerous anglers target this trophy fish, with anglers worldwide coming to fish for Tarpon in Tampa Bay.
You're probably wondering, "why Tampa Bay for Tarpon fishing in the first place?" well, since Tampa Bay is the largest estuary in Florida, it receives the biggest migration of tarpon, with the species migrating in by schools of the thousands. In fact, Anna Maria would sometimes have schools of Tarpon that can stretch for miles and miles.
One can catch Tarpon in Tampa Bay from March to October. We highly recommend fishing for Tarpon in May, June, and July, as this is when Tarpon fishing is at its peak. Any inshore fishing charter in Tampa would switch over to Tarpon fishing exclusively during these times.
As for what size to expect, one would average between 70 to 130 pounds, though you can also find tarpon reaching up to a whopping 250 pounds. Some unofficial records have reported tarpon weighing about 300 pounds in Tampa Bay!
Wrapping It Up
While there are more fish you can catch when inshore fishing in Tampa Bay, these are the ones that most anglers target and enjoy either to catch and release or bring home for their delicious meat. Contact us now to learn more about our fishing charter services to get started with your trip!