Everything You Need to Know About Tampa Bay Fishing Charters
Are you planning to go on a fishing trip in Tampa Bay anytime soon? Then you're in for a treat because Tampa Bay is one of the best fishing spots in the state! That's why if it's your first time in the area or you're with family and friends, you must join or hire Tampa Bay fishing charters.
But wait! What are fishing charters in the first place? Read on to find out!
Everything You Need to Know About Tampa Bay Fishing Charters
Before anything else, you're probably wondering: What are Tampa Bay fishing charters in the first place?
In general, fishing charters are recreational fishing boats you can join or hire. These charters have a captain or guide, along with a crew. The captain and crew provide services and local knowledge, along with the boat and gear for you to get started with your fishing trip.
Here are other things to learn about and expect when it comes to Tampa Bay fishing charters: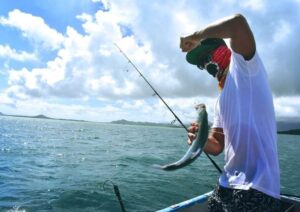 What to Wear and Bring
Before the excursion date, speak with the captain. You need to know what's included in the fishing charter with the base rate you're paying for. Most fishing charters would include all appropriate fishing gear for the trip, such as the rods, reels, tackle, bait, and cooler for when you catch fish.
Charters would also have the appropriate fishing license to cover everyone joining the charter. Some charters also provide snacks and drinks to enjoy when out on the open waters!
Once you're aware of what the fishing charters include, you'll have more of an idea of what to bring. In general, you must always bring essential items you would take on any other trip, like your personal medications, wallet, and water-resistant bag to place all these valuables.
As for what to wear, make sure you bring and wear sun protection like sunscreen, sunglasses, a brimmed hat, and comfy clothes. Opt for light-colored clothes to reflect the sun, made of material that can wick moisture off the body. Moreover, your clothes should offer unrestricted mobility. Don't forget boat shoes with good grip.
Will You Always Catch Fish?
This is a common question we always get asked when on fishing charters is related to the assurance of catching fish. While we hope you always catch fish on a charter, the answer will depend on the business and where you're going for the charter.
Fortunately, in Tampa Bay, you can expect a lot of fish during the various seasons. This heightens the chance of catching at least one fish during your trip. But most charters will not provide a guarantee of catching fish. In fact, charters who d promise that you'll have a catch are most likely inexperienced or scammers.
Even the best anglers worldwide would have days where they go back on lang without any fish. While fishing will require knowledge, skill, and a bit of luck, no one can control nature.
That said, reputable fishing charters will always do their best to navigate to an area where they are confident the fish are biting. Captains operating charters do this because they want to share their love for fishing and because they are pretty good at navigating the Tampa Bay waters!
The captain and crew, especially if they grew up or lived in the area for years, have an intimate knowledge of the local waters. Moreover, they are knowledgeable about the behavioral trends of various fish species and the best techniques to catch them. This will also increase the chance of success when you're out on the water.
Here at Tampa Bay Fishing Charters, there's almost always a high chance you will catch a fish. First-timers can even catch more than one, as long as you have a well-knowledgeable captain, good fishing conditions, and the right technique.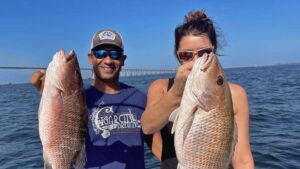 Tipping the Charter Captain
Whether you're a tourist or local, you must learn about Tampa Bay's tipping etiquette, particularly what's involved when joining or hiring a fishing charter. Just as how you would tip service professionals like waiters, tour guides, or personal drivers, you should provide a gratuity to the captain and crew based on their service.
Sure, you paid for their rate in full, but you must also consider the fact that the fees associated with operating the business are more than you think. For example, there's bot fuel, having to maintain the boat itself, and other miscellaneous items like fishing equipment and bait.
Furthermore, the captain and crew have spent years on the water learning and training about the underwater creatures, how to read the waters, and the fishing techniques used. The captain and crew will do more than take you out to the waters. They will also ensure that you are safe, navigate to waters for more chances of catching fish, and use their expertise with professional customer service to make your experience an amazing one.
While the amount to tip is discretionary, it's customary to tip about 20%.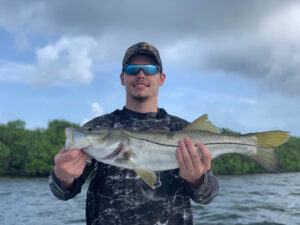 Types of Fishing Trips Available
The fishing trip you choose will depend on your wants and needs. There are two major types of fishing charters, which are:
Inshore trips: These take place in sheltered waters near land, typically a few miles from shore. The fish are usually smaller with a calmer sea.
Offshore trips: This is a popular category that takes place miles from shore, involving some of the biggest sport fish around the world! Also called deep sea fishing, this is for experienced anglers who want more adventure and action.
Wrapping It Up
Did you get to learn more about Tampa Bay fishing charters from our article? We sure hope you did! You can check out our other blog posts to learn more about Tampa Bay, charters, and guides. Or, you can contact us now to set an appointment and join a charter or guide today.