The Best Fish to Catch in Tampa Bay
Tampa Bay is Florida's largest open water estuary, being a lengthy 400 miles! That's a lot of water to explore. Not only that but home to Tampa Bay's waters are over 200 fish species, so it isn't hard to see why it's one of the top fishing destinations in the country.
The city has an active fishery available for both resident and visiting anglers all year round. And thanks to Florida's relatively temperate climate, direct access to the Gulf of Mexico, as well as freshwater feeds, you'll likely encounter fantastic game fish during your trip.
But you might be wondering, what are the best fish to catch in Tampa Bay, exactly? Read on to find out!
The Best Fish to Catch in Tampa Bay
Tampa Bay is home to a diverse ecological system, with numerous opportunities to catch various species like snook, tarpon, snapper, and more.
Let's take a closer look at the best fish to catch in Tampa Bay:
Tarpon
Tampa Bay offers some of the best tarpon fishing opportunities worldwide. And it's definitely worth catching, as this species is also the most popular sportfish in the world, thanks to their stellar stamina and strength. But that's not all – What makes them unique is their acrobatic leaping up to 15 feet into the air.
Oh, and let's not forget their size, as tarpon can weigh a whopping 200 pounds. All these are why tarpon is such a sought-after species, with anglers all over the world heading to Tampa Bay for a chance to catch these fish.
Snook
Snook is another popular species, because you can get an exciting trip when targeting them on shallow flats. When the cooler season arrives, you'll find them seeking warmer waters around rivers, boat basins, and deep backwater springs.
Like the tarpon, snook can put up a fight and leap great heights. Expect crafty and explosive fish as you try reeling one in.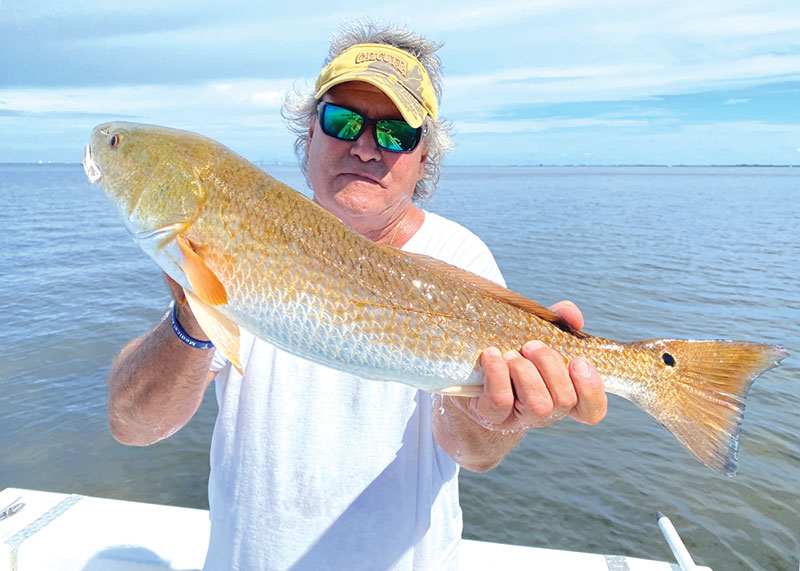 Red Drum
The red drum, also known as the redfish, is a classic catch among locals around flats. It's considered the ultimate flats species that you can catch all year long. You can find them in very shallow water between 2-5 feet deep.
They are also a great fish to target for beginners because, while it's easy to catch, you can still get a challenge out of them. They run in schools of similar sizes, so expect fast action and tired arms!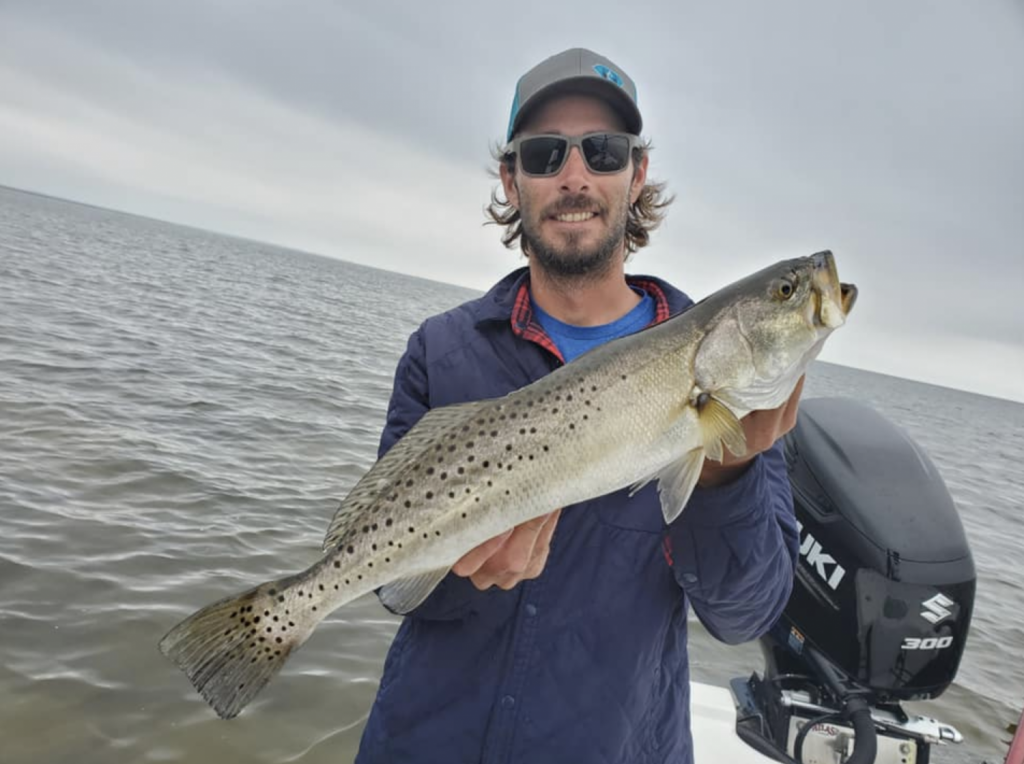 Speckled Trout
Trout, also called speckled sea trout, is another favorite among local and visiting anglers. Since they are very prolific, they are an abundant sport fish species in Tampa Bay. You can find them throughout the entire bay and Tampa Bay beaches.
This is another fun catch for beginners as they are easy to reel in and have delicious meat.
Black Drum
Expect an exciting time when fishing for black drum! You can catch them all year long, with their weights ranging from 3-90 pounds. The smaller fish are great to eat, and they are also the only ones we can keep. Note that Florida has set a size limit of 14-24 inches so larger black drum can spawn.
Kingfish
Now, let's check out the fantastic offshore species of Tampa Bay, starting with the kingfish! The fishing action for this species is great come spring and fall because the water temperatures are in the mid-70s, and kingfish migration passes the offshore waters out of the bay.
What makes them a fun catch is how they are one of the fastest species in the ocean, with the ability to swim almost 40 miles an hour!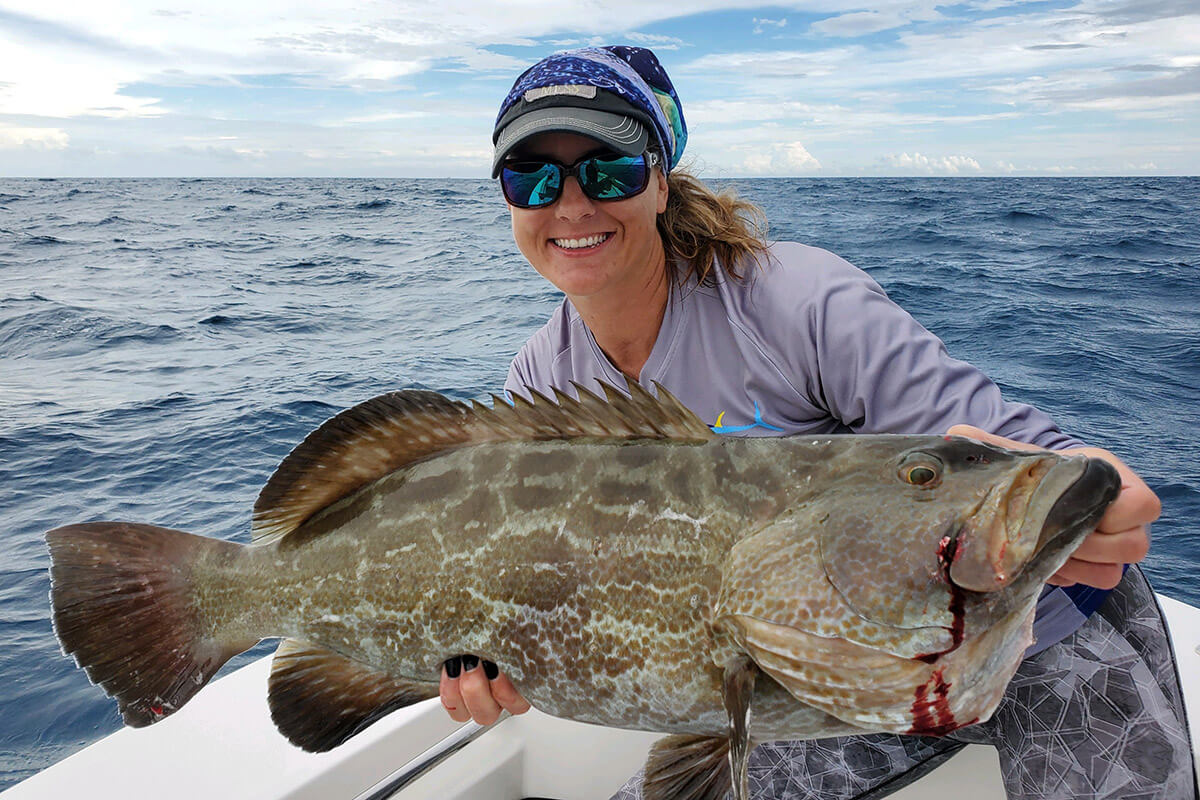 Grouper
Expect widespread fishing opportunities for gag groupers, whether inshore, nearshore, or offshore all year round! These fish weight between 4-20 pounds, but you can find some that can weigh up to 60 pounds. Note that there is a gulf limit of catching four groupers per person and that all your catches must be 22 inches long.
We love catching gag groupers because of their delicious meat. Moreover, they are prolific so there are higher chances of catching them, especially in bay area structures or hard bottoms and artificial reefs offshore.
Other than the gag grouper, you can also catch the popular red grouper, which offers a ton of fun. There are also other species like the goliath grouper, which offers a thrill among offshore anglers given their huge size. Just make sure you prepare your strength, as goliath groupers can average between 100-400 pounds!
Permit
Permit is one of the best fish go catch in Tampa Bay, and a best-kept fishing secret at that. Only a very few people are aware that Tampa Bay offers some of the world's best fisheries for this species, with permit gathering in schools by the hundreds to thousands.
False Albacore
Looking for a bit of adventure? Target the false albacore, which has great stamina and strength. Give yourself a challenge, because anglers claim that this is the hardest fighting fish in the world.
These fish weigh 7-15 pounds on average, but you may be able to catch some weighing up to 20 pounds. While they aren't the best-tasting fish, you can improve its flavors by preparing them as you would a medium-cooked steak.
Amberjack
Amberjack is another favorite offshore fishing in Tampa Bay, typically found 15-40 miles out and 50-100 feet deep. These fish are popular for their strength and hard pull, making them a challenge even if you're already using a 100-pound tackle!

Wrapping It Up
Now that you know about the best fish to catch in Tampa Bay, list down your target species and begin preparing for a trip of a lifetime!
If you're still looking for a fishing charter to book for your upcoming trip, contact us now. We can connect you with reputable fishing charters that can make time out on the waters a memorable one.