Tampa Fishing Seasons for Deep Sea Fishing
Florida is one of the top fishing spots in the USA because of its reasonable weather and climate all year long. While many of us often go to Destin or Miami, Tampa is usually overlooked. However, this city offers excellent fishing opportunities and fishing charters as long as you know where to go and when to schedule your trip.
You'll be surprised by how huge a difference it makes when you know the optimum fishing seasons of the area. Obviously, this makes you wonder about the Tampa fishing seasons for deep sea fishing!
Read on to learn more about when to go to Tampa for fishing based on the months.
Tampa Fishing Seasons for Deep Sea Fishing
We break down the different Tampa fishing seasons by month, so you have a better idea of when it's best to visit the city:
January
January brings the coldest water temperatures of the entire year in Tampa Bay and Sarasota Bay. While it's pretty cold and you think fish might not be biting, you'll be surprised with how it can actually be a great month to fish.
The secret is to pay attention to the water temperatures, as this can make or break your trip. It varies from 52-70 degrees F, and once it warms to the mid-60s, you have chances of targeting snook and trout. If it reaches the low 60s to 50s, you can catch and target redfish, black drum, trout, flounder, and sheepshead. You can also head to the deeper waters for amberjacks, bluefish, and false albacore.
February
February fishing varies, depending on the year's winter season. Most times in February, you'll likely catch redfish, black drum, or sheepshead. You can also catch trout or flounder in cooler water. You'll have fun catching amberjacks, snappers, and groupers when offshore fishing.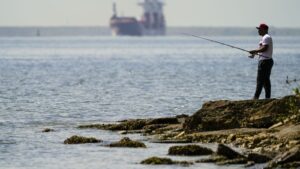 March
This is another great month of catching fish because the water is getting warmer for a consistent pattern. Furthermore, there are fewer chances of a cold front to change the fishing situation.
During this month, you can catch a ton of snook or redfish, or even amberjacks and tarpon as you go deeper. Some people can come across large Cobia, so expect large catches this time of year.
April
April will leave you with more choices with the weather getting even hotter everywhere else. The offshore fishing situation is smoking as fast as flats fishing, with a ton of kingfish, groupers, snappers, mackerels, false albacores, dorados, barracuda, amberjacks, sharks, and even the goliath groupers.
May
The best way to describe May when Tampa fishing is: Tarpon fishing season. That's because May 1 traditionally marks the start of tarpon migration in the area.
You'll also find a ton of other fish species, such as trout, redfish, groupers, snappers, and cobia. Expect a ton of large fish during these times and coming in large schools.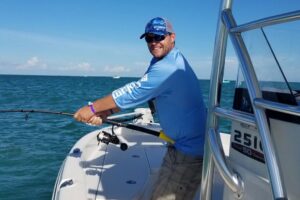 June
While the Tarpon season begins in May, you can see so many tarpon everywhere! You can find it inshore and in huge schools offshore.
Since most anglers are focusing on catching tarpon at this time, you can take advantage of that and target different species. You can hook up monster spawning snook, a large school of bull redfish, or large snappers and groupers. Furthermore, offshore fishing offers species like the tunny, shark, mackerel, and Goliath grouper.
July
This is considered the last month of Tarpon fishing during its migration, and the schools can be massive at this time. This is also an excellent time to target spawning snook, while you can find redfish on flats. As for trout, you can catch this fish by the hundreds!
Mackerel are easier to catch in July, while red snappers and groupers are found offshore.
August
August is a hot month in Tampa, with bait spawned out. You can find a ton of tiny minnows on the area's flats that the fish gorge on. Furthermore, it's an excellent month to catch Bull Redfish in shallow waters.
If offshore fishing, you can find trout on deep grass flats, along with snappers, mackerels, sharks, groupers, large snappers, and dorados.
September
September is similar to August. Snook will be in season while we're still in the hot summer patterns. You'll also find a lot of redfish and trout. Offshore bottom fishing is optimal for groupers and snappers about 15-30 miles, where you can also find schools of dorado. During this time, amberjack fishing starts to heat up in the deep.
October
October is favored, with divine weather, excellent fishing opportunities, and light boat pressure. It's also a transition month when the water cools and patterns change as falls come our way. Think of it like April, where the fish are heading to the same areas with water temperatures dropping.
November
Surprisingly, November is an excellent month to fish in Tampa Bay and Sarasota. In the first half of the month, it's similar to October, with the fish on flats getting further up the backwater for winter. It's great to catch snook, trout, and redfish on the flats. You can find kingfish, mackerel, false albacore, and groupers when offshore.
December
It's still possible to fish even during winter! The fish continue biting, and you'll find fewer people around to compete with for fish. You'll find redfish, black drum, sheepshead, flounder, and snook. When offshore, you'll find snapper and grouper action being hot!
Wrapping It Up
Hopefully, you learned a lot about the Tampa fishing seasons for deep sea fishing and when it's best to go. It all depends on factors like the type of fish you want, water temperature, and the overall water current.
If you plan to head to Tampa soon and want some fishing action, don't hesitate to contact us now! We can provide advice on when to go fishing based on the fish you want to catch and for more success in getting a bite.