Tampa Fishing Season for Inshore Fish
Tamps is one of the most overlooked Florida fishing spots, and you'll be surprised to know that the city offers a lot of inshore fishing opportunities throughout the year. However, you can only find fishing success if you strategize and plan ahead. This means learning the Tampa fishing season for inshore fish.
If you're wondering about the best times to fish in Tampa, read on! We'll show you the species you can catch in the area, depending on your target species.
Tampa Fishing Season for Inshore Fish
Inshore fishing refers to any type of fishing taking place in waters about 30 meters deep or less. It isn't about how far one is from the shore but the depths of the waters. It's a fun fishing style suitable for beginners, those who want to target certain inshore fish species, or if you don't have much time to go offshore to the far deeper waters.
Tampa offers a lot of inshore fishing action all year long, making it a fun experience for beginner and expert anglers. While there is no exact Tampa fishing season for inshore fish, there are recommended months to fish in the area for more success.
Here are the top fish species you can target and when to do so in Tampa:
Tarpon
You can begin finding huge Tarpon spawning from the beginning of May until mid to late July. This fish species would follow the tides, so look for Tarpon closer to shore come high tide. We recommend looking for them a bit further out during low tide, looking for food.
Tarpon lives in clear and clean water, so fishing for them is a bit of a challenge. While they can bite on live or dead bait, lures, or flies, you won't have much luck with poor presentation.
We recommend using monofilament lines and casting past them, bringing the bait in front of their faces. You can go for crab and pinfish, among other common Tampa baitfish.
Moreover, you can find Tarpon in the flats. Since they follow the tides, pay close attention to the tides. You may find them on artificial wrecks, glass flats, and at times, further offshore.
Snook
Tampa Snook fishing is a fun time, and you can expect this fish species to be around during the late spring to summer. You can usually catch big Snook throughout the year but expect the monsters to come during the fall season as they feed more to stock up for the cold.
Snook would bite different baits, with the most productive ones being grunts, shrimp, and pinfish. Rig them using a small amount of weight and work back slowly in the middle of the water column for more success.
Do note that Snook prefers current and cover, looking for a baitfish school that moves with the tides. It's recommended to get your bait in the channel Snook hunt in. Furthermore, you can find Snook in inlets or other channels in Tampa.
Redfish
You can target Redfish all year round in Tampa, but you'll find more success from the early spring to fall seasons. They still live in Tampa come winter, but they are feeding less, more scattered, and in deeper waters than usual.
Redfish are usually active all day but tend to switch spots depending on the sun and tides. During high tide and high sun, they go under docks. During low tide and low sun, they may head to deeper structures.
These fish would bite on anything that seems natural to their area, so go for ladyfish, pinfish, and shrimp. We recommend rigging your bait with the appropriate weight based on the current and depth of where you are fishing, allowing it to sit.
Redfish are a favored inshore fish species that love the docks. We recommend using live bait and casting either under docks or as close as you can. We also recommend using heavier equipment as your gear may run back under, breaking off.
Redfish also prefer mangroves and grassy flats for the same reason they love docks – they love the cover!
Kingfish
Kingfish would begin their run into the bay come springtime, with huge kings flooding the bays for food. You can usually catch Kingfish the entire day since they live in deeper water and won't be as affected by the sun compared to other inshore fish.
One of the best techniques to catch Kingfish is trolling, especially when using a deep-diving silver crankbait. If you want to use live bait, we suggest using herring and pinfish, among other local baitfish. Also, use a heavy line and steel leader with a flat or float line.
You can usually find Kingfish in artificial reefs or wrecks. To find Kingfish, look for Spanish Mackerel, as they live in relatively similar locations, though the latter would bite quicker.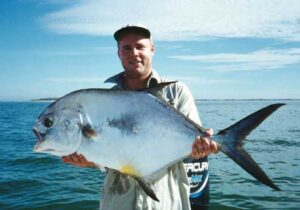 Permit
We love Permit fishing during the morning as they want to feed before the weather becomes too warm. These are year-round fish in Tampa and are popular for putting up a fight, making them quite an experience for all anglers!
When catching Permits, you can opt to use the chumming technique, using sand fleas, blue crabs, or shrimp. Permits like getting their bait from the sand with the jaw to crush it. However, they have generally soft bites, so we don't recommend using a rod holder.
You can find Permits in various areas, usually inshore on flats or offshore wrecks. They are usually on sandy flats than grassy ones as they want to look in the sand for food.
Wrapping It Up
We hope that we have helped you learn more about the Tampa fishing season for inshore fish. Now that you know when your target fish species is in season, it's time to schedule your next fishing trip in Tampa accordingly.
If you're still looking for fishing charters in Tampa, you may want to contact us now for our services. We offer complete fishing charter services to suit your needs!