Tampa Bay Fishing Excursions
If you want an amazing fishing experience, there's no better city than Tampa Bay! You can get some of the best fishing experiences in the world with various species, from tarpon to red drum. After all, Tampa Bay has over 200 species living in its bait-laden waterways, making it the crown jewel among Florida destinations.
Moreover, it has the largest open-water estuary in the state, making it all the more popular among local and international anglers. All these alone make it worth booking charters for exciting Tampa Bay fishing excursions.
But before you start booking dates, you'll want to acquaint yourself with what fishing in Tampa Bay is like. Read on as we share what to know about Tampa Bay fishing excursions, from the fish to catch to the types of fishing you can do.
Tampa Bay Fishing Excursions: Fish to Catch
If you can find it in the Gulf and shallows, you'll likely find it in Tampa Bay. There's a huge variety of aquatic life, with everyone after the "Big 3," which are:
Tarpon
Tarpon is the most popular fish to catch in Tampa Bay, with the traditional fishing season beginning from April to August. However, you can start as early as March! On a good year, tarpon fishing seasons can last for up to 7-8 months, giving you the advantage.
Expect May to July to be a tarpon extravaganza as it is the peak of their migration, with locals and visitors heading to the waters for a chance to catch them. During these months, tarpon can weigh between 80-140 pounds, with some reports of tarpon weighing up to 200 pounds in the summer.
Expect tarpon to put up quite a fight, with fights lasting up to 40 minutes. Since they are trophy fish, you can't expect any less.
Redfish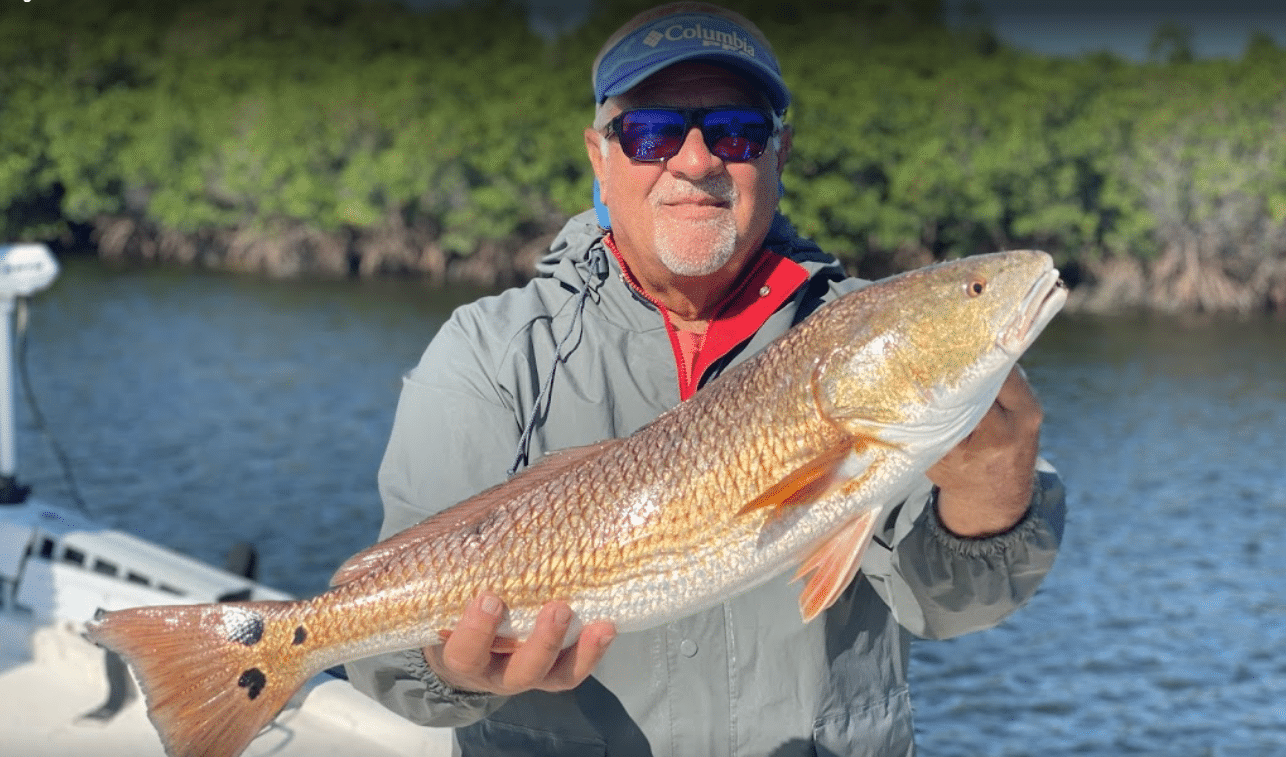 You can't find redfish opportunities anywhere as good as Florida. It's a skinny-water favorite that you can catch all year long. This species has its stamina and tenacity to thank for making it extremely popular in the city's flats.
Many redfish in Tampa Bay measure about 15-35 inches. You can usually catch them in very shallow grass flats of up to three feet deep. Come winter, they would migrate to deeper waters between 4-8 feet deep, but they are still catchable!
You can find redfish congregating in similar locations as snook and trout. For those eyeing monster redfish, head a few miles off the beaches and near ship channels.
Snook
Snook is a staple gamefish in Florida, located in virtually almost all parts of Tampa Bay. From beaches to docks, jetties to mangroves, you'll likely be able to reel in a snook or two. The best places to catch them in Tampa Bay are on beaches, residential docks, or mangrove shorelines.
While snook is available all year long, you'll want to target snook during spring, summer, and fall. Summer may be a bit hot in Florida, so you can avoid the direct sunlight by night fishing. Snook are nocturnal feeders so you have more chances of success as they are active at night, particularly under dock lights.
You can also find other local species, including trout, grouper, snapper, cobia, flounder, mackerel, and even various shark species. Spotted seatrout, sheepshead, and flounder are popular favorites! Besides that, there are also offshore species like King Mackerel, barracuda, permit, mahi mahi, and amberjacks.
Types of Tampa Bay Fishing Excursions
There are various ways you can go about your Tampa Bay fishing excursions, with almost any technique being able to land you something. Here are fishing styles you can explore when in the city:
Shore Fishing – If you like fishing from land, you'll have a fantastic time in Tampa Bay, which is filled with bridges, beaches, and piers made for fishing. Many fly fishing and surf fishing opportunities can bring in fish. We recommend heading to Bishop Harbor, Clearwater Beach, or Lake Tarpon.
Charter Fishing – Booking a fishing charter is a convenient way to head out to the deeper waters. With professional guides navigating the waters and helping you use the available fishing gear, you'll have more chances of catching your target species. You can choose between nearshore or offshore trips, depending on what kind of fish you want to catch.
Kayak Fishing – Kayak fishing is popular in Tampa Bay, and for many great reasons! The area is filled with grassy flats, nearshore waters, and backwaters, making it a kayak angler's haven. You'll find trout, snook, redfish, and even tarpon around the mangrove thickets and skinny waters.
Tampa Bay Fishing Regulations and Licenses
Before you head out to the waters and reel in a catch, you must know about the state's fishing regulations. Many species, like tarpon and red snapper, have specific fishing seasons. Knowing these rules and regulations won't only prevent you from incurring hefty penalties, but you can also plan your trip accordingly.
You must also know what kind of fishing license you need. Fortunately, it's easy to avail of a fishing license, as you can purchase one online or locally. Fishing charters and guides will have charter licenses that cover you so you may not need one. However, it's best to ask!
Moreover, check if there are additional fees when fishing in parks or piers. Again, fishing charters and guides may already provide this, but you must cover all bases to avoid hidden fees.
Wrapping It Up
There's nothing like a day out in Tampa Bay's waters, waiting for a bite. The city is the ultimate angler's playground with numerous sought-after species that anyone can catch!
That's why it's always worth heading to Tampa Bay for some of that fishing action. If you want a stress-free trip with the boat and itinerary taken cared for, you can never go wrong with booking a charter. For those planning their trip to Tampa Bay and looking for a reputable charter to book, contact us now for more information.