Deep Sea Fishing Near Tampa Bay
Planning to visit Tampa Bay anytime soon? Then you'll be pleasantly surprised with the wide array of things to see and do, including deep sea fishing!
That's right, Tampa Bay is an excellent fishing destination filled with tons of opportunities to catch many species, ranging from the seatrout when inshore down to dolphinfish and tuna when you deep sea fishing near Tampa Bay. After all, the city is only 30-40 miles away from deeper waters, so you can expect to target a ton of Florida saltwater fish!
So, you now know all about deep-sea fishing near Tampa Bay. But are you aware of exactly how you'll be getting to the deep waters and top fishing spots?
Read on as we share the ultimate guide and why you should consider hiring deep-sea fishing charters (like us).
Deep Sea Fishing Near Tampa Bay: What to Catch
One of the notable features of deep sea fishing near Tampa Bay is that there isn't any limit. You can catch almost anything in Tampa Bay's deep waters. Here are some of the top species you can target and try catching:
Marlin
This is one of the most popular gamefish, and in Tampa Bay, you can find both the white and blue marlin. Blue marlin can weigh over 1,000 pounds, so prepare yourself for quite a workout!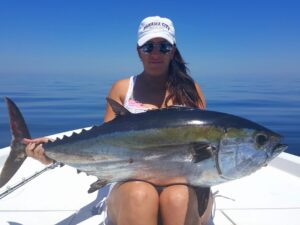 Tuna
Tuna is another big game you can target, and there are different species you can find when in Tampa Bay. The most common will be the blackfin, but if you're lucky, you can catch bluefin or yellowfin. Find blackfin about 40 feet deep and around structures, while other species will be in deeper waters.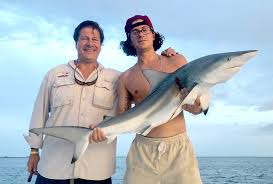 Sharks
The Gulf of Mexico is home to numerous shark species, so you can expect to encounter them at one point during your trips. Sharks are one of the most common big species you'll see, and if you get to reel one in, prepare for a fight!
Mahi Mahi
Mahi mahi is an all-time favorite, not only known for its good looks and fighting abilities, but for the delicious meat, it brings to the dinner table! If you manage to catch one successfully, you can get a workout, a yummy dinner, and a photo to brag about with fellow anglers!
More Species
Besides the species mentioned above, there are a whole lot more to expect when deep sea fishing near Tampa Bay, like:
Sailfish
Kingfish
Wahoo
Snappers
Groupers
And the list goes on!
Deep Sea Fishing Techniques
There are two extremely popular techniques to use when deep-sea fishing near Tampa Bay:
Trolling
This is the most popular and proven method to catch a lot of bottom fish species like tuna and marlin. You can even lure in Mahi Mahi and sailfish through trolling.
This technique will have you search wide stretches of the vast waters for your prey simultaneously, dealing with multiple fishing lines. You'll need help taking care of all those lines, so if you're on a fishing charter, at least one first mate will be with you.
Bottom Fishing
If you'd like to stay a bit nearshore, try bottom fishing, where you can expect to catch a ton of exciting fish closer to the ocean bottom. There are a lot of tough fighters, so prepare your strength. Use bottom fishing for species like groupers and snappers.
Another technique you can try is deep dropping for swordfish, where you can go as deep as 1,000 feet to lure them in!
Top Fishing Spots in Tampa Bay
You now know the different fish species to target in Tampa Bay and the techniques you can use, but where should you go to catch them?
Here are fishing destinations you can consider heading to:
The Pride: The Mexican Pride is actually a shipwreck about 35 miles offshore and 130 feet deep. It's a suitable destination for those targeting the Goliath groupers, along with cobia and amberjack. You just need to be careful as it is also a recreational diving site.
The Steps: This is a section of the drop-off about 120 miles southwest of the city. It's a structure where the ocean floor will drop down in steps, hence the name. It's known among anglers when targeting marlin, tuna, wahoo, Mahi Mahi, and swordfish.
Treasure Island II Reef: This is almost 27 miles away from land and is part of the artificial reef program created by Pinellas County. This reef was built using remains from two ships and is a haven for divers and anglers alike. You can find species like snappers, groupers, amberjack, barracuda, and a lot more.
Limestone: Why is it called Limestone? Because of the spectacular limestone patches on the ocean floor! It isn't only a unique sight, but there is a ton of fishing action here because the area is overgrown with corals and vegetation, making it hunting grounds for big fish and bottom feeders like groupers and snappers.
Do You Need a License?
Yes, you will have to acquire a fishing license when deep sea fishing near Tampa Bay. But if you will be joining a fishing charter, the license is already included, so you won't need to hassle yourself or pay for one. That said, it's best to communicate with the captain just to make sure that the license is already included or if you still need to avail of one.
Wrapping It Up
When it comes to deep-sea fishing near Tampa Bay, you can expect to find a ton of fantastic fishing opportunities. Moreover, the fishing action will leave you breathless, especially when you get your hands on a huge catch.
Planning to go deep sea fishing near Tampa Bay? While you can go out to the deep waters on your own, it's always best to avail of charter services for higher chances of success. Contact us now to learn more about our charter services!