Fun Fish to Catch When Deep Sea Fishing in Tampa
Tampa Bay has over 200 species inhabiting the bait-laden waterways, which is why it deserves to be revered as a crown jewel among anglers. It is also home to the largest open-water estuary in the entire Sunshine State, so you can expect a lot of action and excellent catches, especially when going offshore.
With just that short description in mind, you can see why anglers would join charters to go deep sea fishing in Tampa! If you're interested in joining one as well, you're probably wondering what fish you can catch once you're there. Read on as we list down the fun fish you can catch when deep sea fishing in Tampa.
Fun Fish to Catch When Deep Sea Fishing in Tampa
There are many ways to catch fish when in Tampa Bay, with offshore fishing being one of the most adventurous. You can hunt for the big ones in the deeper waters, where you can catch specific species when joining fishing charters.
Here are some of the fish you can expect to catch:
Kingfish
You'll like the Kingfish action in Tampa Bay come spring and fall, the two times of the year when the water temperatures stay within the mid-70s. During this time, Kingfish migration will pass the offshore area and out of the bay.
Come spring, Kingfish will migrate from south to north and come fall, they will come by from the north going south for winter. Many anglers love this fish species and consider them exciting because of their speed, as Kingfish can swim almost 40 miles an hour. You can find Kingfish averaging 8-30 pounds, though you can catch larger trophy fish weighing 35-40 pounds.
When catching Kingfish, we recommend using live bait and chum. Find them migrating from the beach about 30 miles offshore, with larger Kingfish running up in the mouth of the bay.
Gag Grouper
Gag groupers aren't only available when deep sea fishing in Tampa but also inshore and nearshore as well. They are widespread, which is why anglers consider it a fun catch. We can find gag groupers in bay area structures and offshore in large numbers along ledges, sunken wrecks, artificial reefs, and the hard bottom.
Gag groupers will weigh about 4-20 pounds, though people have reported catching fish as heavy as 60 pounds. If you plan to catch these fish, we recommend using a 60 to 100-pound heavy spinning tackle, depending on the size. As for baits, use pinfish or live greenbacks for average-size gag groupers, while dead threadfins or cut ladyfish are suitable to target larger sizes.
Besides the gag grouper, you can also catch red groupers and Goliath groupers offshore. Red groupers are a more offshore grouper which you can find over six miles offshore in waters deeper than 40 feet. They are about 16-23 inches long, but you can catch red groupers over 30 inches long, weighing 15-20 pounds.
The Goliath grouper, as the name suggests, is a monster fish that deep sea anglers will remember as their thrill of a lifetime. Expect a fun, arduous battle when trying to reel this fish onto the boat, as these fish average 100-400 pounds, a sea monster, and trophy that any angler will be proud of.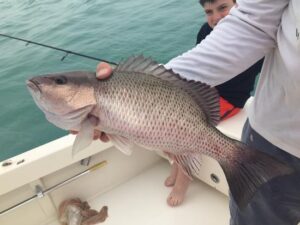 Mangrove Snapper
Snapper action in Tampa Bay and surrounding offshore waters is excellent, with Mangrove snappers being a popular species. They are a fun catch because they are challenging, plentiful, and have delicious meat you can take home. Plus, these fish are ready to catch all year long, though they are especially abundant during the hotter summer months from July and August.
If you plan to catch Mangrove snappers, we recommend using a light tackle and light line with size 1 or 2 hooks as they are leader and hook shy. You can use shrimp and small greenbacks as bait. However, note that Mangrove snappers are sneaky bait eaters and can get bait off the hook before you try reeling them in.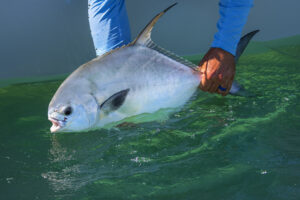 Permit
Permit is one of Tampa Bay's well-kept fishing secrets. You'll be surprised to know that the area has one of the world's best fisheries of the species! We can find most Permit caught via sight fishing over offshore reefs during calm, flat days.
We like the Permit because they can sometimes gather in schools by thousands, and it's quite a sight to see that giant school around the boat! If you're targeting Permit, head to artificial reefs or wrecks, looking for long black fins sticking out of the waters. Some Permits can ride so high that you can find their eyes sticking out.
Another plus is that you have a higher chance of catching many trophy Permits when deep sea fishing in Tampa. These would weigh between 30-40 pounds.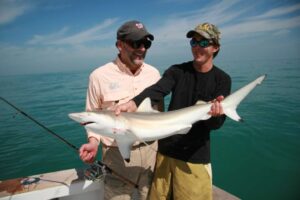 Sharks
Tampa Bay's waters are one of the most shark-infested worldwide, where you can find hammerheads, bulls, tigers, blacktips, or sand sharks. And that's just naming a few! You can go shark fishing all year long, but if you want more aggressive sharks for a challenge, you'll be happy to catch them during the warm summer months.
We recommend using a standard shark-focused tackle of heavy rods, line, and a wire leader with a heavy circle hook. Use bloody Spanish mackerel or false albacore as bait. Any bloody fish will do, really!
Wrapping It Up
Tampa Bay isn't one of the Sunshine State's fishing paradises for nothing. The Gulf's bait-rich offshore waterways attract a roster of different fish species ranging from the King Mackerel to Sharks every year! These fish will truly give you a ton of fishing action and turn up the heat in deep blue waters.
We hope our list of fun fish to catch when deep sea fishing in Tampa excited you for your upcoming fishing trip! If you're still looking for a fishing charter to join in Tampa, contact us now, and we can provide our services and connect you with the best fishing charters and guides in the area.