Everything You Need to Know About Fly Fishing in Tampa Bay
If you love fly fishing and plan to head to Tampa Bay, then you're in luck. Fly fishing in Tampa Bay offers some of the most exciting opportunities worldwide! Pelagic fish would migrate off Tampa Bay's continuous coast, giving anglers some of the best and most consistent fly fishing.
But you're probably wondering where to start. Read on as we talk more about fly fishing in Tampa Bay and how you can start doing so.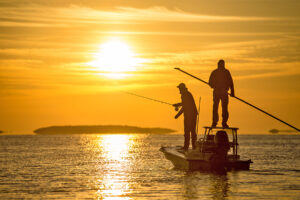 About Offshore Fly Fishing in Tampa Bay
Targeting Kingfish migrating from the fall and spring offers exciting experiences! Kingfish can average between 8-20 pounds while trophies weigh 30-40 pounds, while some have caught fish upwards of 50 pounds.
There is also many other fish you can catch including Jacks, Cobia, Spanish Mackerel, and even Sailfish. Mackerel, Cobia, Jacks, and Mahai are very popular during the spring, summer, and fall.
You may also target the Little Tunny or False Albacore, which are year-round and a favorite among guides and anglers. These fish would travel in schools and average between 8-15 pounds. They will pull around for pounds as hard as other fish and love eating fish.
Of course, there are other species you can catch when fly fishing in Tampa Bay like snapper and grouper. However, they aren't an easy target among fly fishermen. That said, they are still possible to catch using weighted lines.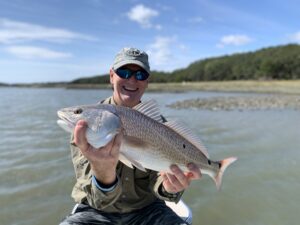 About Inshore Fishing in Tampa Bay
Inshore fly fishing in Tampa Bay offers a ton of opportunities as offshore fishing does. The area offers premiere flats with thousands of acres of flats, back bays, and mangrove-filled backwaters. That's why you can find so many anglers all over the world heading to Tampa Bay for some fly fishing action.
Two of the most popular species caught when fly fishings are the Snook and Redfish. The clear shallow waters these fish live in make them a favorite among many anglers. On average, experienced charter captains and guides can battle over 20 snook, with better days bringing in over 50 snook!
Most snook would measure between 21-26 inches, with large snooks on the fly being over 30 inches. There have been reports of larger fish taken, measuring over 40 inches, though these giants are caught using live bait.
When classic sight fishing and using 8-9 weight fly rods in about 3 feet of water, you can catch a 25-inch snook on average. Besides catching fish, you'll also have a ton of fun reeling them in as you watch snook run up to grab your fly. They offer hard-pulling runs and they are a difficult adversary to beat. These fish would eat flies well and stay relatively consistent.
The next fish you can catch is redfish, another favorite target species when fly fishing in Tampa Bay. The redfish live in many waters the Snook live in. Some anglers may even mistake Redfish for Snook. You can find large schools of redfish, so massive that they can turn the waters orange! Because of that, these fish are susceptible to fall for flies when feeding in large packs.
Usually, you can expect redfish to measure between 18-26 inches, with some measuring up to 27-35 inches in larger schools. Come wintertime, you can get schools of smaller fish, while the fall season can bring you larger ones, with some redfish going over 40 inches.
Other popular species fly fishers target is the speckled trout. While they are not the best fighters and better for beginners, they are worth catching because of their delicious meat.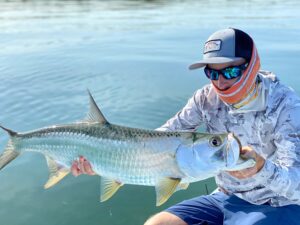 Tips When Fly Fishing in Tampa Bay
Here are a few tips to follow when you plan on fly fishing in Tampa Bay:
When you strip your fly, you must remove as much slack out of your line as possible. You can do this by keeping your rod tip close to the waters. If the tides or winds blow bends in the fly line, point your rod tip at the angle of the bend. If ever the bend's too large, you can mend the line.
Make sure you have your fly rod rigged with the fly you will fish with before heading to the fishing area. You might end up seeing fish as soon as you arrive at the flat so don't waste time and opportunities.
When you make a cast and shoot line, don't drop the line! Keep in contact with the stripping hand. Once you can, pinch the line at the end of the cast before hitting the water. Doing this will remove the slack from your cast so you can begin the strip quicker and effectively.
Learn how to cast 60-70 feet with 2-3 back casts. Moreover, you'll want to learn how to back cast and double haul.
When making casts that require a certain distance, cast about 20 feet to either side of the desired target and pick up the line off the water, laying a cast to your target to correct the distance.
The smaller and lighter the fly, the better it casts and the softer it lands!
Keep the fly rod rig with a small piece of yarn to act as a fly. Store it close to the door.
Avoid increasing your rod speed over false casts when making the final cast. Never throw harder on the final cast.
Remember that different people will be more comfortable making casts with different angles. If you want to be more accurate, you'll want to have the fly line unfold in a vertical plane.
Wrapping It Up
Hopefully, this article gave you more of an idea of what it's like when fly fishing in Tampa Bay! Now that you know more about it, why not schedule your next trip to Tampa Bay for some fishing action?
If you plan on going fly fishing in Tampa Bay, don't forget to book a charter or hire a fishing guide! You may be able to score even more catches with professionals helping you along the way. Contact us now to avail our services!